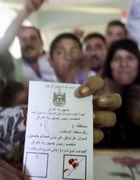 The official result of a referendum in Iraq on extending Saddam Hussein's presidency by another seven years is expected on Wednesday.
Correspondents say there is little doubt he will be returned by another massive majority in the tightly controlled vote which offers Iraqis no alternative candidate.
On Tuesday, voters trampled American flags and some signed their ballot-papers in their own blood in a display of loyalty to Saddam.
...
In London, the Foreign Office painted a stark picture of the "choice" facing the Iraqi voters:
"You can't have free elections when the electorate goes to the polls in the knowledge that they have only one candidate, that candidate routinely murders and tortures opponents of the regime and the penalty for slandering that sole candidate is to have one's tongue cut out."
» BBC NEWS | Middle East | Saddam awaits landslide victory
Excerpt made on Wednesday October 16, 2002 at 12:02 AM